School Dinners
At Broke Hall Primary School, we have an in-house team dedicated to providing high quality school meals for all of our children.
Our school meals are cooked on site by our own kitchen team, using locally sourced, fresh ingredients where possible. Children can choose from a varied and healthy menu each day. This can be either a hot dinner, jacket potato or the 'Pick and Mix' packed lunch option. The current menu and allergen chart can be viewed below: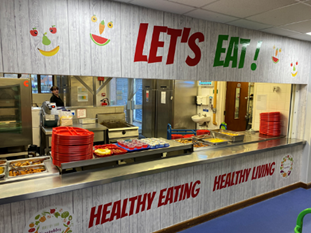 Currently, pupils in Reception, Year 1 and year 2 are entitled to a free school meal thanks to a government-funding scheme known as universal infant free school meals (UIFSM).
Your child may also be eligible for free school meals if you are in receipt of certain benefits. We would encourage any parent who thinks they may qualify to apply. Applications are dealt with discreetly.
You can register online through the Suffolk County Council website.
If your child is eligible for 'free school meals' and you register them for this, we'll receive extra funding called 'pupil premium'. We use this extra money to improve the educational provision and resources at the school. See our Pupil Premium page for more information.