Early Years Foundation Stage
In the Early Years Foundation Stage, children learn through structured play planned around the seven interconnected areas of learning and development of the Early Years Foundation Stage framework.
Children are guided with care through their stages of development and the expectations of the seven areas:
Communication and Language
Physical Development
Personal, Social and Emotional Development
Literacy
Mathematics
Understanding the World
Expressive Arts and Design
The Characteristics of Effective Learning describe behaviours children use in order to learn. To learn well, children must approach opportunities with curiosity, energy and enthusiasm. Effective learning must be meaningful to a child, so that they are able to use what they have learned and apply it in new situations. These abilities and attitudes of strong learners will support them to learn well and make good progress in all the areas of learning and development.
Playing and exploring
Active learning
Creating and thinking critically
Intent
At Broke Hall, our philosophy is to value every child as a unique individual, who enjoys learning and thinking for him or herself. Our aim within the Early Years Foundation Stage is to provide a happy, safe and stimulating environment, which allows all children to feel secure and valued and therefore ready and eager to learn. The characteristic of Effective Learning underpin our curriculum and we provide a supportive and secure environment in which every child can flourish and learn at their own pace and in their own individual way. Our role is to stimulate and encourage their development and enjoyment of learning through a variety of different activities, both adult directed and child initiated in secure indoor and outdoor situations.
Our curriculum is designed to enable all children to succeed through ensuring challenging, playful opportunities across both the prime and specific areas of learning. We recognise that all children develop and learn at different rates and so our EYFS curriculum is designed flexibly to meet the needs of all individuals. We support individual learning through our skilful interactions and observations. Through our well-planned environments alongside 'planning in the moment', we provide meaningful opportunities for developing the characteristics of Effective Learning; playing and exploring, active learning and creating and thinking critically. As children utilise and develop these characteristics they become independent, effective and motivated learners who demonstrate high levels of well-being and involvement.
We believe the relationships which the children develop in the Early Years, with each other and with our staff, are central to their happiness and will lay the best possible foundation for them to become independent lifelong learners.
By the end of the Reception year, our intent is to ensure that all children make at least good progress from their starting points are equipped with the skills and knowledge to have a smooth transition into Year 1.
Implementation
At Broke Hall School, we believe that children learn best when they are inquisitive, interested and engaged. We aim to give children the opportunity to explore their own interests, enquire, plan and take risks through adopting an 'in the moment planning' approach.
By providing an open-ended and enabling environment, both inside and outside, supported by skillful staff we are able to seize the moment when a child shows a level of interest and curiosity. We can then draw out and extend these moments. Different children will engage in a range of ways, 'In the moment planning' ensures that every child's experiences are acknowledged and built upon.
Each half-term, EYFS staff introduce a new theme to provide inspiration for learning, whilst providing the flexibility for children to follow their own interests and ideas. Children learn through a balance of child-initiated and adult-directed activities. The timetable is carefully structured so that children have directed teaching during the day as well as plenty of time to engage in exploration. Each and every part of our learning environment has been responsively planned to meet and challenge the development needs of our children.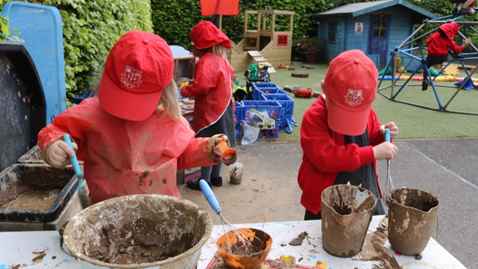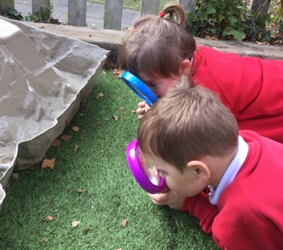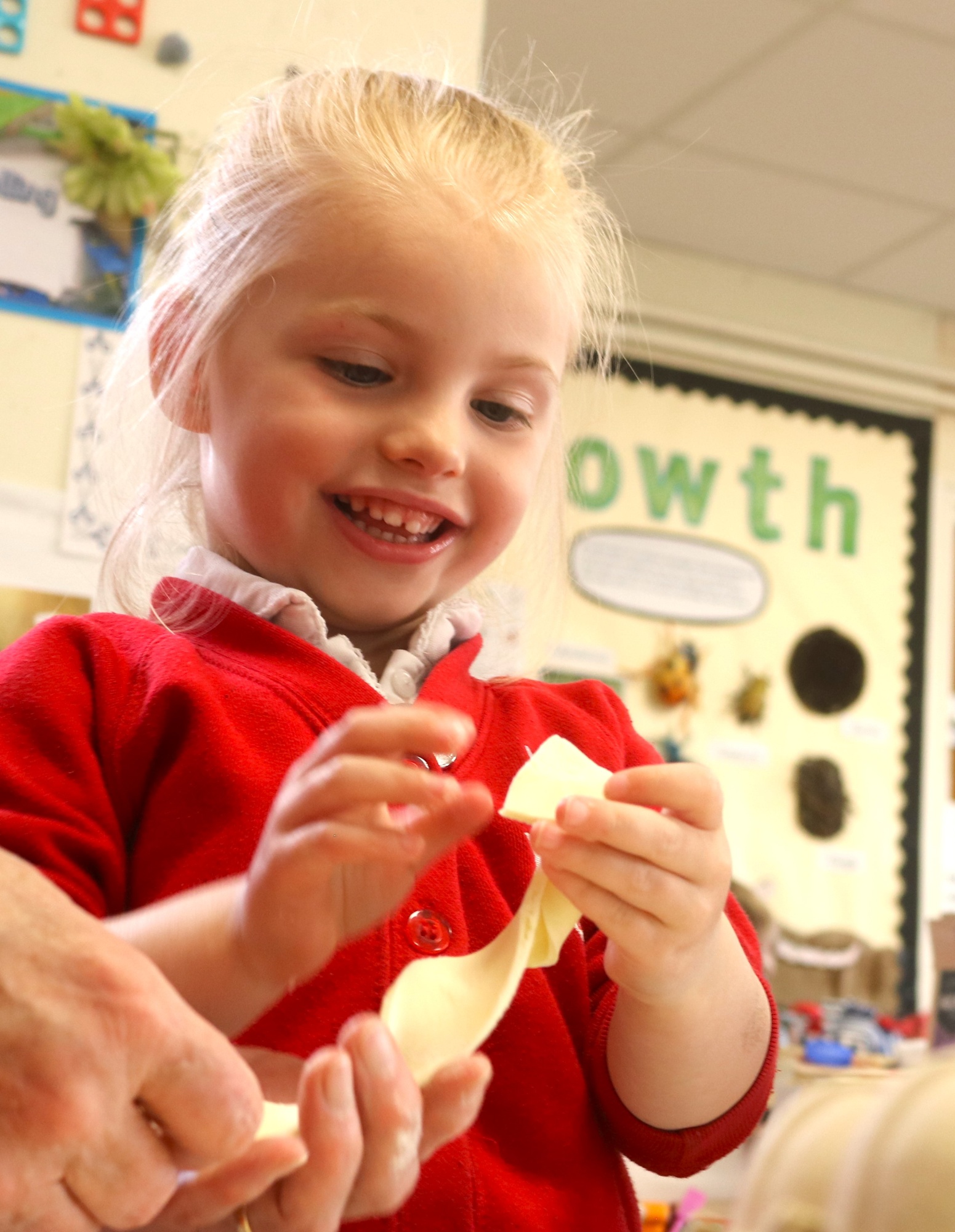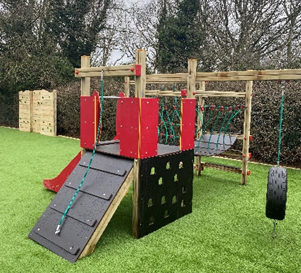 Areas of Learning
Prime Areas:
Personal and Social and Emotional Development
This area of learning provides opportunities for children to develop positive attitudes about themselves and those around them. We want children to become valued members of the class and shape their own identity through an increasing awareness of their own needs and the needs of others. This area of learning helps children to develop positive dispositions to learning, to be cooperative and communicative. It helps to develop and show an understanding of what is right and wrong and begin to consider the reasons why and developing an understanding that there are always consequences to a particular behaviour. It supports the development of social skills by providing opportunities that enable children to learn how to socially respond and work with one another. We follow the Jigsaw PSHE scheme from Reception upwards.
Physical Development
This area of learning offers opportunities for children to develop and practise the control they have over their own bodies. It allows for them to further develop the confidence and skill in large gross motor movements such as running, jumping, climbing, swinging, hanging etc. Developing and promoting their spatial awareness and coordination, whilst at the same time encouraging the fine motor skills that they will need to develop holistically. Encouraging the finer movements which involve the ability to control the use of one-handed tools and equipment e.g. digging tools, paint brushes, mark-making and writing tools. This area of learning is also vital in supporting a developing understanding of how their bodies work and what they need to be healthy and safe, (including knowing when they are hungry, cold, hot or thirsty, etc) and how they are able to best meet these needs. At Broke Hall, we follow the Penpals for handwriting scheme from Nursery upwards.
Communication and Language
This area of learning provides opportunities for children to develop new vocabulary and the skills needed to speak confidently in a wide range of situations. It helps them respond to their peers and adults in an environment where speaking and listening are highly valued skills. It allows them to communicate and respond in a variety of contexts and places value on them expressing their own thoughts and ideas and taking into account the thoughts and ideas of others. It also gives opportunities for all children to explore, enjoy, learn about and use words and text in a broad range of contexts, including through stories, role play and drama.
Specific Areas:
Literacy
This area of learning supports the development of linking sounds to letters and understanding that from this we can read and write. Children will begin to recognise print in their environment and start to understand that this is one way of communicating with one another. It is vital that children understand that print carries meaning and that they are able to engage with this essential element of communication and the high importance it holds. We actively promote the importance of reading and writing which is done through stories, songs, poems, mark making and writing in a variety of different contexts and for different purposes using a wide range of media. Throughout all classes there is a book corner and areas that promote active mark making and writing. We teach phonics on a daily basis and use the Bugclub phonics programme from Reception upwards.
Mathematics
This area of learning provides opportunities for children to develop their understanding of number, measurement, pattern, shape and space by providing a broad range of contexts in which they can explore, enjoy, learn, practise and talk about numbers and shapes. It encourages children to understand and respond to the symbols that represent numbers and what this means in real contexts. It supports children in understanding what an important role shapes and numbers play in our everyday lives and how they develop our own understanding and help us to solve problems. At Broke Hall School, we teach mathematics based on Mastery Maths which is taught across the School. From Reception, the Power Maths scheme is followed.
Knowledge and Understanding of the World
This area of learning provides opportunities for children to solve problems, question, make decisions, experiment, predict, and plan in a variety of contexts and to explore and find out about their environment. It helps to develop their senses and understanding of their physical world. This is further supported through visiting our forest area and having the everyday experiences of the outdoor environment. By engaging with the world around us children learn more about people and communities and the world in which they live.

Expressive Arts and Design
This area of learning offers opportunities for children to explore and share their thoughts, ideas and feelings through a variety of art, design and technology, music, movement, dance, imaginative and role-play activities. They are presented with the opportunities to experiment with different media, resources and a range of activities which will inspire and stimulate their creativity and motivation to move their learning forward.
Impact
During the first half-term in Nursery or Reception, all staff use ongoing assessments, observations and conversations with the child to develop a baseline assessment. This identifies each individual's starting points in all areas so we can plan experiences to ensure progress.
The RBA (Statutory Reception Baseline Assessment) is also completed. This assessment focuses on 'Language, Communication and Literacy,' and 'Mathematics.' The purpose of this is to show the progress children make from Reception until the end of KS2.
Phonic assessments are carried out every half-term to quickly identify pupils that are not making expected progress. Our aim is for children to 'keep up' rather than 'catch up' where possible.
All ongoing observations are used to inform weekly planning and identify children's next steps. Some observations are uploaded using Tapestry and shared with the supporting parents and carers and examples kept in individual files.
In the Summer Term, the EYFSP is completed where teacher judge whether the child has met each of the 17 Early Learning Goals. Children will be assessed as either 'emerging' or 'expected' for each goal.
Our aim is that all children leave the Early Years Foundations Stage equipped with a range of knowledge and skills that provide a solid foundation for good progress throughout school and life.